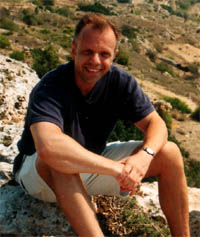 I am Agis Neugebauer from Berlin, Germany.
I was born 20th December 1960 as 2nd of three children. After a happy childhood I finished school in 1979. I always was very good in painting and so decided to try a career as an art teacher. Unfortunately this career wish was only short lived because I failed my art test at the Berlin Hochschule der Künste.
So I decided to go for the complete opposite and started a government job in the official German social security system. Really save (and boring as hell at the beginning). After a couple of years I opted for an additional education as an in-house software analyst/ developer. That was more to my liking. More money and a way more interesting job to do. I then changed to in-house consulting, business analyst and IT-Accounting.
After that I joined a big and exhausting job enrichment/ enlargement program. Right now I am in a pretty comfortable situation. A secure and interesting job and fulfilling hobbies.
During all this time I still had this feeling that my painting skills were a bit wasted in my job (obviously). Because of that I came into miniature painting / gaming. Finally something where I could show off my skills! (Yes - vanity is my favourite sin.) Unfortunately my first minis were not that good, but over the last 15 years I became quite proficient.
In 2000 I entered the GW 40K Grand Tournament. That was a real boost for my painting enthusiasm. My Eldar Ulthwe army finished 2nd best painted army. Cool! For 2001 I wanted to do something really special and decided to do a complete converted army. I chose the Harlequin concept (using the Dark Eldar rules). (Proud-mode on!) Again my Dark Harlequin army was runner up for best painted army and was featured in WD (UK) #259. (Proud-mode off!)
Right now I am more interested in games like Disposable Heroes, ACTA, Supersystem, Chaos in Carpathia, SotR, Battlefield Evolution, Tannhäuser, Okko or Infinity.
My other hobbies are a bit of sports. I enjoyed role-playing on an almost bi-weekly base for many years. I was storytelling Werewolf, Vampire, Changeling, Trinity and Shadowrun for 10 years (thanks Micky, Claudio, Thomas, Carsten, Andreas, Tom, Victor, Fabian, Katja and Mart for a really great time!). I still love to read SF, to travel, to go to the movies and have a good time with my friends and family.
2009 saw again some "landmarks" in my life, I finished the above mentioned 3 year job-enrichment program successfully, we moved in our house and I started to write some game books under my A.D.Publishing "company" label.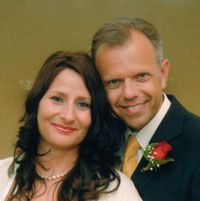 The first week of September 2004 I was in London to hear one of my all time favourite Rockbands again. RUSH were celebrating their 30th Anniversary Tour. Reason enough to go with Marion, Marcus (an old friend from school days) and Conny to London. We combined the concert with some London sightseeing. You can imagine that we were absolutely in awe when we accidentally met Alex and Geddy near the London Eye. Time to gave the 2 guys a serious hug and get some fanboy photos. Amazingly enough these guys are - even after 30 years in the biz - still friendly to their fans. 2 thumbs up RUSH! Not to mention that the concert was also great...
On May 8 2006 Marion and I finally said yes to each other. The Little Chapel of the Flowers in Las Vegas was the location. Call me happy...