Captain America (Steve Rogers) and Bucky (James Buchanan Barnes)- WW2 version

Captain America - History: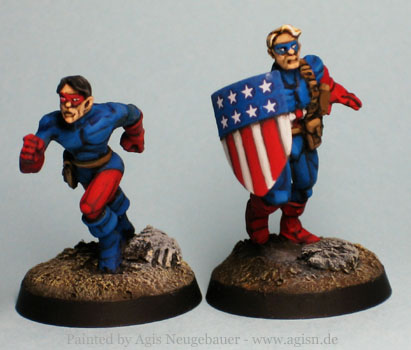 Steve Rogers was born during the Depression and grew up a frail youth in a poor family. His father died when he was a child, his mother when he was in his late teens. Horrified by newsreel footage of the Nazis in Europe, Rogers was inspired to try to enlist in the Army but was rejected. Overhearing the boy's earnest plea to be accepted, General Chester Phillips of the U.S. Army offered Rogers the opportunity to take part in a special experiment called Operation: Rebirth. Rogers agreed and was taken to a secret laboratory in Washington, D.C. where he was introduced to Dr. Abrahan Erskine (code named: Prof. Reinstein), the creator to the Super-Soldier formula.
After weeks of tests, Rogers was at last administered the Super-Soldier serum. Given part of the compound intravenously and another part orally, Rogers was then bombarded by "vita-rays," a special combination of exotic (in 1941) wavelengths of radiation designed to accelerate and stabilize the serum's effect on his body. Steve Rogers emerged from the vita-ray chamber with a body as perfect as a body can be and still be human. A Nazi spy who observed the experiment murdered Dr. Erskine mere minutes after its conclusion. Erskine died without fully committing the Super-Soldier formula to paper, leaving Steve Rogers the Sole beneficiary of his genius.
Roger was then put through an intensive physical and tactical training program,teaching him gymnastics, hand-to-hand combat and military strategy. Three months later, he was given his first assignment, to stop the Nazi agent called the Red Skull. To help him become a symbolic counterpart to the Red Skull, Rogers was given the red, white, and blue costume of Captain America.
During the final days of the war, he was trying to stop a bomb-loaded drone-plane launched by Nazi technician Baron Heinrich Zemo when the plane exploded, obviously killing his partner Bucky; and throwing him unhurt into icy Arctic waters.
SuperSystem stats (2nd Edition:)

Captain America
Affilation: US Military
BP: 85
AP: 9
Attribute:
Strength:4, Agility:5[1], Mind: 4, Resolve: 4, Initiative: 5
Powers:
Armor (Captains Shield) x 3
Combat Sense x3
Instant Stand
Melee Attack x 4
Ranged Shield Attack (5D,14")
-Reduced Range x 4
Sidekick (Bucky) x 10
Vitality: 8
Rules to use Captain America in games of Battlefield Evolution: Worl at War:
Captain America can be taken as a Command Asset for every Allied army
Captain America – 200 points
Type

Size

Move

CC

Target

Save

Kill

Traits

Captain America

1

6"

3xD6+1

5+

4+/3+

7+

Command, Independent,
Take Cover!
Unit: Captain America (unit leader) with the Shield of Freedom
Alert: Captain America and every unit he joins increase their reaction range to 12" (see Page 25 of the Battlefield Evolution: World at War book).
Elite Training: Captain America gains a +1 bonus to his Armour rolls when in Cover. He may also re-roll his Close Combat dice.
Fanatic: Captain America and every unit he joins automatically discards all Suppression dice.
Natural Born Leader: A gifted Leader as Captain America can have a very dramatic effect on his soldiers. Leading by example Captain America can awake the will to fight for the right cause into every friendly unit within 12" of him, allowing them to discard all Suppression dice. Furthermore, he may gather up to 30 friendly Soldiers (Size 1 models) within 12" of him to create a Heroic Charge. A Heroic Charge then moves and fights as a single unit so long as the Captain America is alive and they remain within 12" of him. All models in a Heroic Charge add +1" to their Move and Close Combat score and are immune to the effects of the Retreat rule.
Propaganda!: It never hurts to have good press! If Captain America survives the game he is worth +50 victory points.
Superhuman Pace: Captain America has three Actions per game turn.
Tank Assault (if purchased): Infantry in this period used a variety of grenades or mines to assault armoured vehicles. All members of the unit are assumed to carry Improved Anti-Tank Explosives. These may be placed on any model of Size 2 or greater with a Charge action. They will explode at the end of the charging unit's next turn.
Options:
Captain America may be equipped with a SMG and Improved Anti-Tank Explosives to perform Tank Assaults for +30 points.
| | | | |
| --- | --- | --- | --- |
| Weapon | Range | Damage | Traits |
| Improved Anti-Tank Explosives | Placed | 2xD10+2 | Lethal Zone/2", One-Shot, Piercing/3 |
| Shield of Freedom | 18" | D6+2 | Accurate |
| SMG | 12" | 3xD6 | Concentrate Fire |
Bucky - History:

Separated from his sister following their parents' deaths, James Barnes became a teenage ward of the state assigned to Camp Lehigh in Virginia, where he served as camp mascot and set up a profitable endeavor providing soldiers with various non-requisition supplies. His mother had died when he was a young child; his father had died in an accident while in basic training at Camp Lehigh. He befriended a seemingly naive young private, Steve Rogers, who had recently become the government operative Captain America. One night, Barnes discovered Rogers changing into his costumed identity; sworn to secrecy, Barnes assisted Captain America on a mission against the Red Skull and was given government approval to undergo intensive training to serve as Cap's partner Bucky, in part to counter Germany's Hitler Youth movement. Not long after this, Bucky joined forces with the mutant hero Toro and four young adventurers as the Young Allies. Bucky divided his time between missions with Cap and less formal adventures with his fellow teens.
When America entered World War II after the bombing of Pearl Harbor in December 1941, Captain America and Bucky abandoned their military identities for most of the war to devote their full energies to serving as costumes freedom fighters.
SuperSystem stats (2nd Edition:)

Captain America
Affilation: US Military
BP: (50)
AP: 5+2+1
Attribute:
Strength:3, Agility:3, Mind: 2, Resolve: 2, Initiative: 3
Powers:
Armor x 1
Combat Sense x3
Extra Movement x 2
Fortune x 3
Vitality: 8