The Red Patriot Movement
An official Superteam straight from the Four Colour World of Supersystem! (The Stats Cards further down are 150 dpi picture. Right Click, save it, print it and put it into a Trading Card Protector - whoops: All the stats you need to play these guys...)

When the Soviet Union collapsed in 1989, a new Russia was born. That didn't sit well with some Russians who believed Communism got a raw deal. They didn't like the new Russia, and they rebelled against it, bringing many Super Communists to bear in the struggle. Ultimately, the Red Patriot Movement lost, but still managed to retain control of their power base in the Russian state of Georgia, birthplace of Josef Stalin, and home to a new Proletariat.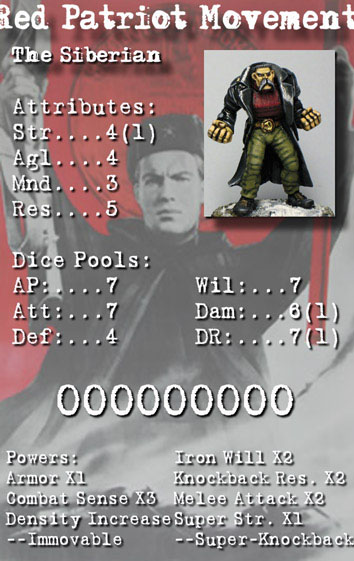 The Siberian - Through all of its struggles, the most visible member of the RPM has been the Soviet Super Soldier known only as the Siberian. His seemingly ageless body a bastion of Communist Party strength since the 1950s, the Siberian now leads RPM operatives in actions around the world.