Zombicide
The Season 1 Survivors on the game table

The Season 1 Zombies on the game table

The Season 1 Zombies

More Season 1 Zombies

The Season 2 Toxic Zombies together with the Joker (from Knight Model) - I am planning to use the Joker as a Necromancer using the Black Plague Spawn deck.

More Season 2 Toxic Zombies

The Season 2 Berserker Zombies

More Season 2 Berserker Zombies

And even more Season 2 Berserker Zombies

The Season 3 Zombies

The Season 1 Survivors with a more neutral backdrop

Some Season 2 Survivors with a neutral backdrop

Some Season 2 and 3 Promo Big Bang Survivors with a neutral backdrop

Some Season 2 and 3 Promo Big Bang Survivors

Everyone who is interested in post apocalyptic Zombie gaming sooner or later comes to Zombicide.

"Zombicide is a collaborative game for 1 to 6 players, ages 13 and up. A game can last for 30min (beginner board) to 4 hours (expert board). Each player controls between one (for 6 players) and four (solo game) survivors, human trapped in a zombie-infested town. In fact, "survivors" quickly change to "hunters" to smash zombies through and through. However, the team must constantly maintain a balance between survival and slaughter, for as the zombicide continues, the Danger Level increases, and the infected grow in numbers. Any misstep can turn to disaster.

Zombicide is a fun and easy game with cool miniatures in an archetypical, popular and comics-inspired environment. Ambiance is constantly balanced between "beat'em up" and "survival horror" as survivors keep switching from prey to predators. Humor and gloom happily marry in a zombie-fest."

From the Zombicide website, best thing - IMO this is not just propaganda! One of the best co-op games around! I bought a starter box and painted the Sheriff.

Plastic is a little bit too soft for my taste but still very good and rich in detail. I would love to see a dedicated Resin edition of all the Survivors! From Season 2 on I joined their 2 Kickstarters.

Phil is based on Rick Grimes (played by Andrew Lincoln) from "The Walking Dead".

Goth Amy, based on Abigail 'Abby' Sciuto (Pauley Perrette) from the NCIS (Naval Criminal Investigative Service) TV-Series.

Ned (Crazy Ned) - a true icon, based on George Andrew Romero/Alan Moore from "Night of the Living Dead/Watchmen"

Doug (The Office Guy or The Salaryman), William 'D-Fens' Foster (Michael Kirk Douglas ) from the movie Falling Down

Josh (The Thug) - based on Jesse Bruce Pinkman (Aaron Paul) from "Breaking Bad"

Wanda (The Waitress), based on Wanda June (Ellen McElduff) from "Maximum Overdrive"

A (slightly too big) die cast cheap Police car. The lower part was sprayed matt, after that I applied some weathering to give the car the Zombie right feel. Next time we drive in style over the game board!

Ross (The Manager), based on Walter Sobchak (John Goodman) from "The Big Lebowski"
and
Gary (The Misfit), based on Jeffrey Lebowski - The Dude (Jeff Bridges) from "The Big Lebowski"

I cannot stress the point enough that these are INCREDIBLE good sculpted minis. When taking them out of the box I was impressed, after painting them I am in AWE. Just check the small details, Walter's Bowling ball, The Dude's white mug (probably for his White Russian). ;)
The casual posture of the Dude, slightly smiling. The liost goes on...

Don't know who sculpted them, but big thanks to him/ her! Again I would love to see a good resin cast of all the Zombicide minis!


Thiago, based on Austin Powers (Mike Myers) from "Goldmember" and
Adriana, based on Foxxy Cleopatra (Beyoncé Knowles) from "Goldmember"


Lea, based on Wichita (Emma Stone) from "Zombieland" and
Ralph, based on Tallahassee (Woody Harrelson) from "Zombieland"


Bones and the mad Padre from the Season 2 Adrian Smith Special Guest Box


Joshua the Protector from Season 2: Prison Outbreak and Dakota (Pamela Anderson) the Season 2 Promo mini


Nikki, based on Penny (Kaley Christine Cuoco-Sweeting) from "The Big Bang Theory" and
Patrick based on Dr. Leonard Leakey Hofstadter (Johnny Galecki) from The Big Bang Theory"


Miss Trish, based on Bernadette Maryann Rostenkowski-Wolowitz (Melissa Rauch) from "The Big Bang Theory" and
Will based on Howard Wolowitz (Simon Helberg) from The Big Bang Theory"


Audrey, based on Amy Farrah Fowler (Mayim Bialik) from "The Big Bang Theory" and
Kabir based on Dr. Rajesh "Raj" Ramayan Koothrappali (Kunal Nayyar) from The Big Bang Theory"

Spencer, based on Walter "Heisenberg" White (Bryan Cranston) from "Breaking Bad"

Do you remember the twin brothers and hitmen for the Juárez Cartel? Leonel and Marco Salamanca (commonly known as "The Cousins") ended pretty bad in season 3 of BB. The above models have a certain similarity, so I only decided to paint them a bit in the way they appeared in the series.

Lost

I just loved the Lost TV Series, so as soon as I saw some miniatures that resembled the characters from the series I just had to get them. I good opportunity to get them painted by a real master: Simon Bradley of stonecoldlead. Sometimes I just give me a real treat and get minis painted by others.

As you can see I was NOT disappointed, Simon is simply one of the best painters around. Similar in style to Tom Weiss or Ruben Torregrosa. The pic below shows the Lost survivors in the way I am going to use them:

As usual I detailed the bases a bit, Simon could have done it also, but I am strange in this part, it only is MY mini if I paint at least some of it. In addition I can make sure that it really fits in colour to the rest of my minis.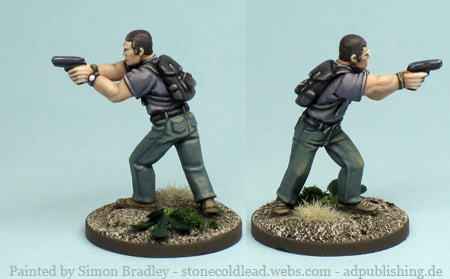 Dr. Jack Shephard
played by Matthew Fox
The de facto leader of the crash survivors, in the show's first four seasons, Jack is very much a man of science. He serves as the antithesis of man of faith John Locke; however, his experiences mold Jack into a believer, to the point of becoming John Locke's spiritual successor.
His leadership role culminates in him taking briefly over as protector of the island from its immortal guardian, Jacob, and being the one to engage one of the series' villains, the Man in Black, in a climactic battle to the death.
Jack's storylines have included the exploration of his relationships with various love interests: fellow survivor Kate Austen, and Juliet Burke, who is initially a member of the mysterious Others, who are the series' visible antagonists for the majority of its run. Other key relationships in the show involve Claire Littleton, whom he discovers is his half-sister; Hugo "Hurley" Reyes as his right-hand man; and Sawyer, his rival for the affections of Kate, even when at some points, Sawyer calls him the nearest thing he has as a friend.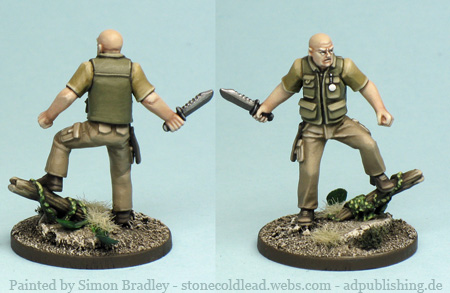 John Locke
played by Terry O'Quinn
Locke is a mysterious, intellectual and stoic character with an affinity for living out in the wild, a penchant for hunting and tracking.
He believes in mystical and spiritual explanations for why things happen on the island due to a self-described "miracle" happening to him after the crash of Oceanic 815.
His stoicism and mystical outlook dominate his character and are the basis for many of his relationships and interactions on the show.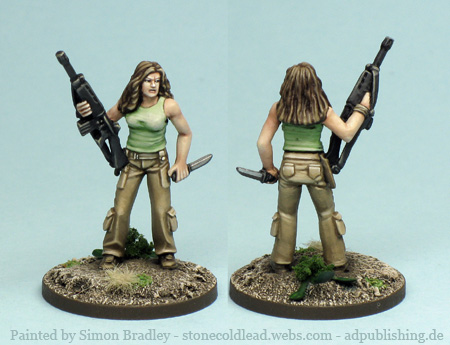 Katherine Anne Kate Austen
played by Evangeline Lilly
Katherine Anne Austen, more commonly known as Kate, is one of the survivors from the crash of Oceanic Flight 815. Before the crash, Kate had spent many years fleeing the law after killing her abusive father. To achieve her goals, she would commit several other crimes and would turn to bank robbery, assault and seduction.
On the Island, she became an integral member of the survivors' society, forming strong bonds and eventually romantic relationships with Jack and Sawyer and also becoming close with Claire and Sun.
Resourceful, quick-witted and mysteriously reclusive, she participated in many missions while attempting to hide her troubled past from the rest of the survivors.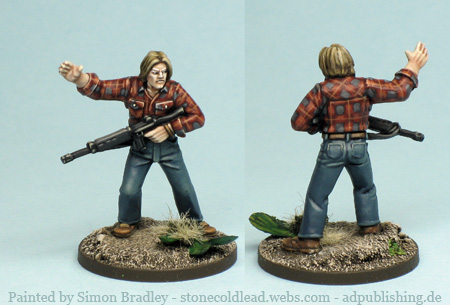 James Sawyer Ford
played by Josh Holloway
James Ford, better known by the alias Sawyer, and known to the DHARMA Initiative as Jim LaFleur, is one of the middle section survivors of Oceanic Flight 815. His rural Southern accent, selfishness, machismo, and folksy use of oft-abrasive nicknames belied his sophisticated and tender sides as an avid reader and a caring lover — elements of his personality that started to become more apparent as he spent more time on the Island.
On the Island, Sawyer used his skills as a confidence man to accomplish various ends. He hoarded material possessions to leverage power, leading to his involvement in several "A-missions". His acts of rebellion led him to, at various times, become the most hated survivor on the island, though he still formed bonds with several survivors.
Sawyer developed a romantic relationship with Kate and later into a fully committed one with Juliet, and his jealousy sparked a rivalry with Jack.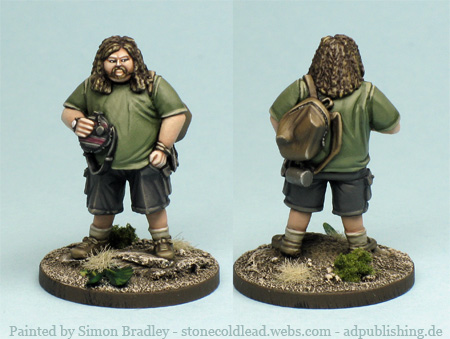 Hugo Hurley Reyes
played by Jorge Garcia
Hugo Reyes, more commonly known by his nickname "Hurley", was one of the middle section survivors of the crash of Oceanic Flight 815.
Hurley's father disappeared when he was ten and did not return until Hurley was 27. During his father's absence, Hurley developed an eating disorder, and later a traumatic accident landed him in a mental asylum where he started seeing an imaginary person. He was overly-conscious about his sanity and weight afterwards.
While employed at Mr. Cluck's, Hurley won the lottery by playing the numbers given to him by Lenny. Because of a series of unfortunate incidents following his win, he believed himself to be plagued with bad luck because of the numbers and searched for an answer to the curse. On the Island, Hurley was typically happy-go-lucky and kept the spirits of his fellow survivors up. He was also a voice of reason in the group and used his common sense to solve difficult situations.